Posted in Other
Posted by Professor Mike O'Connor AM on 26 July 2018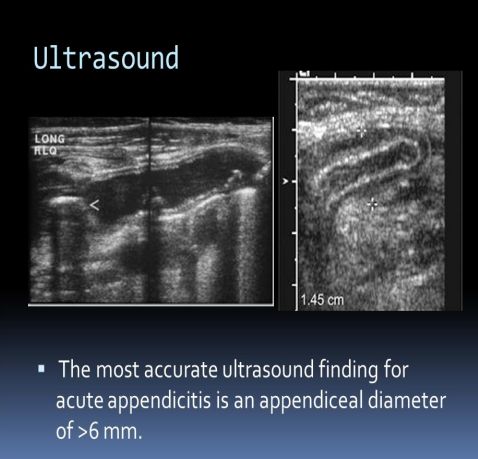 Introduction
Appendicitis most often occurs between the ages of 10 19 years, with an incidence of between 19-28 per 10,000 before the age of 14 years. Less than 7 per 10,000 children present with appendicitis before the age of 4 years & less than 5% of presentations with appendicitis occur before the age of 5 years.
Causation
In tropical climates the cause is often a parasitic worm (pinworm or roundworm) causing obstruction whereas in temperate climates the cause of obstruction of the appendix is more likely to be mechanical twisting or lymphoid hyperplasia associated with viruses such as adenovirus and rubeola or an endoluminal faecolith or undigested food. Periumbilical pain signifies appendiceal colic associated with the obstruction.
As part of the obstruction the lumen of the appendix increases in diameter and this is the basis of the ultrasonic diagnosis of appendicitis: the diameter exceeds 6 mm.
The proliferation of bacteria results in penetration of the wall of the appendix which becomes inflamed and gangrenous. When the pain moves to the right iliac fossa and becomes constant then inflammation of the appendix is underway. Perforation occurs rarely in the first 12 hours of symptoms but is more likely with time thereafter, becoming common after 72 hours.
Generalized peritonitis develops if the infection is not contained by bowel loops and omentum.
Delays in Diagnosis in Young Girls
Prior to rupture there appears to be no effect of appendicitis on tubal function however when the diagnosis is delayed and perforation has already occurred at the time of surgery tubal damage is increased (Relative Risk =4.8;95% CI =1.5-
14.9).
Future Risk of Ectopic Pregnancy
There appears to be a significantly increased risk of ectopic pregnancy in women who have appendicitis. In one study Elraiyah et al found the risk to be (OR=1.78,95% CI=1.46-2.16). A study by Fernandez et al found a similar increase in the risk of ectopic (RR= 2.2 ;95 percent CI: 1.5-3.2 ) but there appeared to be no difference in the ectopic rate between ruptured and unruptured appendices.
Appendicitis in Pregnancy
In a classic case of appendicitis in pregnancy Tthe pain is periumbilical & colicky initially and then migrates to the right lower quadrant as a constant pain as the inflammatory process progresses Anorexia, nausea and vomiting, if present, follow the onset of pain. Fever up to 38.3ºC and leukocytosis develop later. Many patients have a nonclassical presentation, with symptoms such as heartburn, bowel irregularity, flatulence, malaise, or diarrhea. If the appendix is retrocecal, patients often complain of a dull ache in the right lower quadrant rather than localized tenderness. Rectal or vaginal examination in such patients is more likely to elicit pain than abdominal examination. A pelvic appendix can cause tenderness below McBurney's point. The most common symptom of appendicitis, ie, right lower quadrant pain, occurs close to McBurney's point in the majority of pregnant women, regardless of the stage of pregnancy however, the location of the appendix migrates a few centimeters cephalad with the enlarging uterus, so in the third trimester, pain may localize to the mid or even the upper right side of the abdomen (see figures)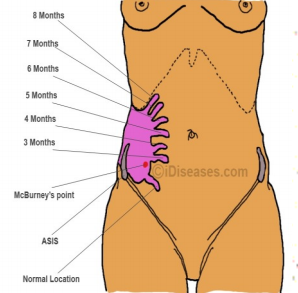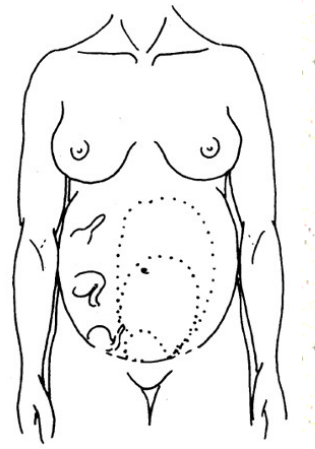 Investigations
WCC. Approximately 80 percent of nonpregnant patients with appendicitis have a preoperative leukocytosis (white cells >10,000 cells/microL) and a left shift in the differential. However, mild leukocytosis can be a normal finding in pregnant women: the total leukocyte count may be as high as 16,900 cell/microL in the third trimester.
Ultrasound of Appendix. The initial modality of choice for diagnostic imaging of the appendix in pregnancy is graded compression ultrasonography. The clinical diagnosis of suspected appendicitis is supported by identification of a non-compressible blind-ended tubular structure in the right lower quadrant with a maximal diameter greater than 6 mm.
MRI .For pregnant women whose ultrasound examination is inconclusive for appendicitis, magnetic resonance imaging (MRI) is the preferred next test as it avoids the ionizing radiation of computed tomography and appears to be cost-effective
Obstetric Consequences of Acute Appendicitis in Pregnancy
The main complication is threatened preterm labour. In one study contractions occurred in 83% of all appendicitis patients in pregnancy >24 weeks with 13% exhibiting changes in cervical dilatation. The advent of laparoscopic appendicectomy has encouraged earlier diagnosis and treatment. Delayed diagnosis can have dire adverse effects on the fetus due to prolonged sepsis.
Further Reading
Mueller BA et al.Appendicectomy and the risk of tubal infertility. NEJM 1986.315:1506-1508
Elraiyah T et al. The effect of appendectomy in future tubal infertility and ectopic pregnancy: a systematic review and meta-analysis. J Surg Res 2014.192(2)368-374
Fernandez et al. Appendectomy, a risk factor for ectopic pregnancy La Presse Medicale 1992 21(39):1859-1861.
Williams R, Shaw J Ultrasound scanning in the diagnosis of acute appendicitis in pregnancy. Emerg Med J. 2007 May;24(5):359-60
Posted by Professor Mike O'Connor AM on 15 February 2018
The recent Federal Government decision to rebate cervical cancer screening only every 5 years and to only rebate for screening after the age of 24 years and under the age of 74 years raises the question as to whether other aspects of women's health could be also screened far less frequently. That could be an unintended negative consequence of the recent Government funding decision.
The chance of an Australian woman being diagnosed with a gynaecological cancer by age 85 is 1:5. At its best a well women's check not only screens for cervical cancer (1% incidence) but also for:
Breast cancer (1:8 or 12%)
Uterine cancer (2.5%)
Ovarian cancer (1.8%)
Vulval cancer (0.1%)
Benign ovarian tumours and cysts
Lichen sclerosis (0.3%) of whom 4% develop vulval cancer
Uterine fibroids (40% >aet 40)
Utero-vaginal prolapse (25%)
Urinary incontinence (37%)
Anal incontinence (12.9%)
Severe menopausal symptoms (22%)
Osteoporosis (20%> aet 50)
The value of early diagnosis is in improving survival rates. The survival from most gynaecological cancers is stage dependent:
Cervical Cancer: Progresses at a rate of - 1 Grade per annum. The 5 yr survival rate by the stage of the cancer approaches 93% for stage 1A, 80% for Stage 1B, 63% for stage 2A, 35% for stage 3A, 16% for stage 4A.
Uterine cancer: The 5 yr survival rate by the stage of the cancer approaches 85% for stage I, 75% for stage II, 45% for stage III and 25% for stage IV.
Ovarian Cancer: The 5 yr survival rate by the stage of the epithelial cancer approaches 90% for stage 1; 70% for stage 2; 39% for stage 3; 17% for stage 4. Unfortunately most ovarian cancers are diagnosed at a late stage. A current view is that many ovarian cancers arise from Fallopian tubes - hence the new emphasis on salpingectomy at hysterectomy.
Vulval Cancer. The survival rate by the stage of the squamous cancer approaches 93% for stage 1; 79% for stage 2; 53% for stage 3 and 29% for stage 4
Vaginal Cancer: The survival rate by the stage of the squamous cancer approaches 84% for stage 1; 75% for stage 2; 57% for stage 3&4.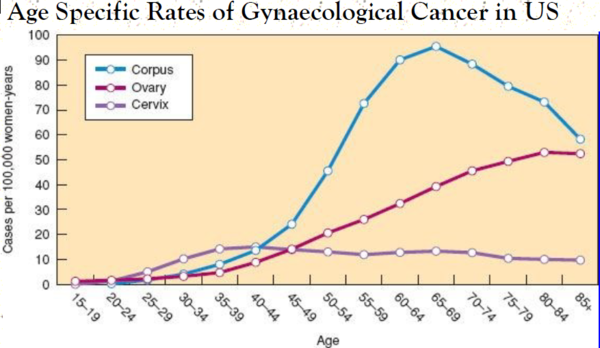 The above graph demonstrates the importance of screening for uterine corpus cancer and ovarian cancer in the peri-menopausal and postmenopausal age groups. The tools available are imperfect however :
Uterine corpus cancers can be predicted using ultrasonic endometrial thickness >5 mm in the postmenopausal age group (especially in menopausal diabetics and Tamoxifen treated patients who are at greater risk)
Ovarian tumour markers have been improved using a risk of ovarian malignancy algorithm (ROMA) based on the levels of CA125 and HE4. Furthermore BRCA gene testing may stratify risk in those with a family history.
Savings Expected by New Cervical Screening Program (CSP)
After implementation of the National Cervical Screening Program in 1991, incidence of cervical cancer declined by 36%, and mortality by 44%, by the mid-2000s. In Australia, the emergent evidence on HPV screening in conjunction with the introduction of HPV vaccination, and the comparatively longer screening intervals and narrower age range for screening recommended by the International Agency for Research on Cancer prompted a major review of the National Cervical Screening Program. The annual cost of the National Cervical Screening Program was estimated to be AUS$215 million in 2015. The estimated saving of the new program using HPV screening is 26%. What is uncertain is the national cost of delays in the diagnosis of non-cervical gynaecological cancers as a result of the reduced incentive to visit the doctor more frequently than every 5 years because of the new CSP.
Further reading:
1.Ferley J, Shin HR, Bray F, et al. GLOBOCAN 2008 v1.2, Cancer Incidence and Mortality Worldwide: IARC CancerBase No. 10 International Agency for Research on Cancer; [October 5, 2011]. 2010. Available from: http://globocan.iarc.fr.
2. Lew J-B et al Primary HPV testing versus cytology-based cervical screening in women in Australia vaccinated for HPV and unvaccinated: effectiveness and economic assessment for the National Cervical Screening Program The Lancet 2017 2(2):e96-e107
Posted by Professor Mike O'Connor AM on 1 January 2018
I recently returned from the inaugural South Pacific Medical Student's Medical Camp in Malolo Island, Fiji.
120 medical students from Fiji, Tonga, Samoa, Papua New Guinea as well as New Zealand and Australia spent a week on a tribal area in the school grounds courtesy of the local chief. The dais was a single structure decorated with palm leaves and the audience sat under a similar structure 25 metres away. There were some fascinating lectures from plant biologists, climatologists, epidemiologists and radiation oncologists. Fiji is soon to get its first radiation oncology centre. I spoke on maternal sepsis and gave tutorials on introductory O&G ultrasound using a portable Vinno ultrasound and a phantom female pelvis .The latter caused some raised eyebrows in Fijian Customs at Nadi Airport. The open boat trip to Malolo in rough seas was particularly interesting as I feared the ultrasound equipment might vanish over the side but that was not to be.
It was very apparent that these young medical students have grave concerns about global warming, rising sea levels and the spread of tropical disease.They may well be on the right track.