Obstetrician, Gynecologist, Pap Smear, Colposcopy, Diagnostic Ultrasound, Urinary Incontinence, Uro Dynamics, Obstetrics, Kogarah, St George
Hospitals where Professor Mike O'Connor AM practices obstetrics
St George Private Hospital, Kogarah
St George Public Hospital, Kogarah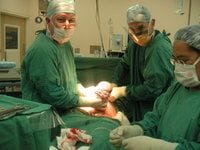 Normal uncomplicated pregnancies
High Risk Pregnancies:
IVF, Advanced maternal age, previous pregnancy losses, diabetes, high blood pressure, epilepsy, lupus, coeliac disease, prior endometriosis, fibroids, recurrent miscarriage, thalassemia, other genetic diseases.
The first antenatal visit normally occurs at between 7-10 weeks. Your medical history will be taken and a physical examination is performed. Tests are arranged including routine antenatal blood screens, Down syndrome screening (12.5 weeks) and a 19 week obstetric ultrasound.
Subsequent antenatal visits occur at 20,24,28,30,32,34,36 weeks and then weekly till delivery.
It is strongly advised that you attend the hospital antenatal classes in your first pregnancy.
Whilst there is no absolute time to stop work, it may be advisable to stop at between 36-38 weeks even if there are no complications.
Professor Mike O'Connor AM is qualified in diagnostic ultrasound (DDU, ASUM) and can perform obstetric ultrasounds using advanced Vinno M80 TM & Sonoace equipment in his surgery. Few obstetricians have this equipment available in their practice. Ultrasounds are used for assessing fetal growth and the well-being of your baby.
A fetal growth assessment is typically performed in the late second and third trimester of pregnancy. The aim of this examination is to assess:
The fetal heart activity and rhythm
The presentation of the fetus (i.e. head, breech, transverse)
The fetal size and growth pattern
The amount of amniotic fluid around the fetus
The position of the placenta
The blood flow through the umbilical artery (and when indicated blood flow within the fetal brain or liver)
The activity and behaviour of the fetus.
The length of the cervix
The presence and position of any uterine fibroids
Professor O'Connor conducts regular workshops in maternal and infant resuscitation for staff at
St George Private Hospital
. He also lectures postgraduates on Indigenous Health at Sydney University and the Management of Sexual Assault for RANZCOG trainee gynecologists.
On weekends a group of obstetricians including Drs Child, Krishnan, Kemball, Thou and myself share a weekend on call roster at St George Private Hospital & St George Public Hospital, Kogarah.
At all other times and most weekends I cover my own patients for obstetrics on the St George campus. About 90 % of my patients are delivered by me personally
Continuity of care is achieved by the use of a detailed shared antenatal card which is carried by each obstetric patient. This allows any obstetrician to recognise important aspects of your pregnancy.