Cerebral Palsy and Magnesium Sulphate
Posted by Dr Mike O'Connor on 2 March 2013
Cerebral palsy (CP) was first described in England in 1862.It is a term for a group of non-progressive disorders of movement and posture caused by disturbances in the developing brain.
The incidence is thought to be between 1.5 and 3.6 cases per thousand live births. In Australia the rate of CP diagnosed by age 5 years is 2 per thousand. There are about 34,000 Australians with CP with an affected child being born every 18 hours.

The annual cost of caring for each affected person is $A43, 000. In Australia, as in the USA there have been 'modest' increases attributed to higher survival rates in very low birth weight babies because of better neonatal intensive care.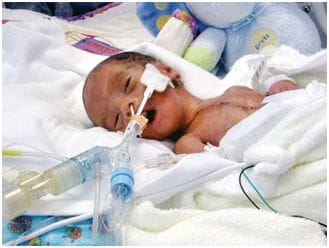 Approximately 75% of such disorders occur before birth. Babies who are premature or small for gestational age or who are one of twins or triplets are particularly at risk. So also are babies subjected to infection before birth.

Recent research suggests that mothers who are likely to deliver very premature infants will benefit from intravenous treatment with magnesium sulphate: a compound already used to prevent convulsions in states of high blood pressure and to suppress premature labour. Overall the rate of CP can be reduced from 3.5% to 1.9% in babies born before 32 weeks .If given to mothers delivering before 28 weeks the protective effect against cerebral palsy is even stronger. Australian maternity hospitals have developed guidelines to use magnesium sulphate in mothers at imminent risk of premature birth. Whilst significant maternal side effects on blood pressure and heart rate can occur, these can be prevented by close maternal monitoring .No significant side effects appear to be caused in the newborn infant exposed to magnesium sulphate in utero.
Author:
Dr Mike O'Connor
About: Dr Mike O'Connor is an obstetrician and gynaecologist based at Kogarah in Sydney's southern suburbs. Dr O'Connor is the current Chairman of the Medical Advisory Committee at St George Private hospital. He also has a Masters in Health Law and is a Fellow of the Australasian College of Legal Medicine and acts as an expert witness in medico legal issues.